Looking for information on who and what will be on your ballot?
Visit Vote411.org produced by the League of Women Voters.

Be an informed voter.  View this presentation to help you evaluation the accuracy of the information you hear and see.

City Commission Forum available soon.
Isabella County voters can check your voter registration and polling place at the Isabella County Clerk's website.

Find absentee ballot dropboxes in Isabella County. Make sure you deposit your ballot in the dropbox that matches where you are registered to vote.
Information on elections can be found at: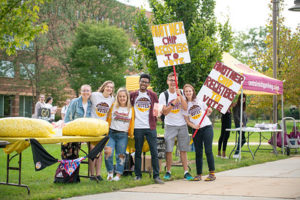 Looking for information on registering to vote?
TO VOTE
You must:
be a U.S. Citizen
be at least 18 years old by the day of the election
be a resident of Michigan for 30 days
have a picture ID as specified by the Michigan Voter Identification Requirements. If you are not in possession of a picture ID, you may sign an affidavit and you may still vote. For additional information see the Michigan Secretary of State's Guide to Voter ID.